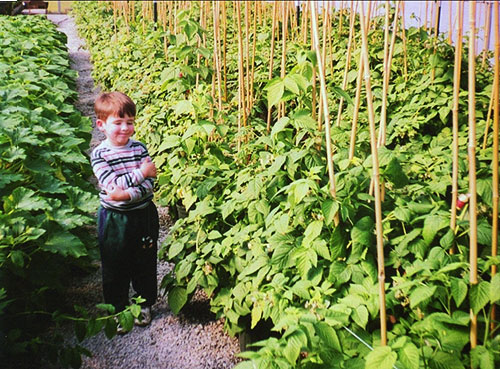 A number of years ago, (over twenty at this point!) we were looking for ways to generate income in off-season times of the year. Cornell University and Dr. Marvin Pritts, Assistant Professor of Pomology were offering growers a course on producing raspberries in the off-season. We attended classes and completed the course, but were unable to put that knowledge to use for a couple of years.
In addition, we applied for and received a grant through Sustainable Agriculture Research & Education (SARE). This taught us a great deal about the importance of variety among other things. We will offer early vegetables grown in our new High Tunnel this year to better serve our customers. We know you can't wait to get our home-grown tomatoes and veggies after a long, cold winter.
We will be offering sweet, fresh Early Raspberries this year, and again around the Thanksgiving/Christmas holiday season. The variety we grow is not typically grown in this part of the country. This variety has been rated #1 over and over by blind taste panels.
Those who purchased our great-tasting early tomatoes at the Chestertown Farmer's Market know how good they are. The key is to grow them in 5-gallon pots of soil-less potting mix to prevent diseases to the plant. We "fertigate" through a drip tape to also help prevent mold and mildew. We also do leaf analysis during growing season and add natural elements as needed. In addition we use beneficial insects to fight pests.
Of course we always try to have fresh home grown tomatoes with taste along with our early cucumbers, lettuce, squash and everything else we have at the farmer's market. We'll be posting updates on this website. Be sure to visit us again!